Online reviews matter for more than just restaurants and cafés. As a matter of fact, they matter almost as much for doctors and dentists too. And if you aren't paying close attention to how your business is showing up in Google or what customers are saying about you in Yelp, you might end up paying.
Paying in terms of lost business, that is.
You see, online reviews are quickly becoming the new personal recommendation. People don't feel the need to ask their family members or friends where they can get a great dental cleaning or checkup for a reasonable price. Instead, they feel the need to consult a community of online reviews that bring a wide, and often varied, perspective on whether or not businesses are worth visiting.
Today more than ever before, online reviews are affecting businesses (and not always in a good way). And if you're still underestimating their power (or are simply interested in just how essential this established movement is for the future of your business), you'll find the answers to all of your questions below.
Quality, Trust, and Conversions Begin With Online Reviews
Thirty, twenty, or even ten years ago, small, local businesses would have never thought that an online review site could make or break their business. But today, that's just the reality of the market.
Quality
In fact, if you ask 88% of the public, online reviews are essential to determine the quality of a local business. And, with just 72% of people stating the same thing just two years ago in 2012, it should come as no surprise that the online movement is growing at increasingly impressive rates.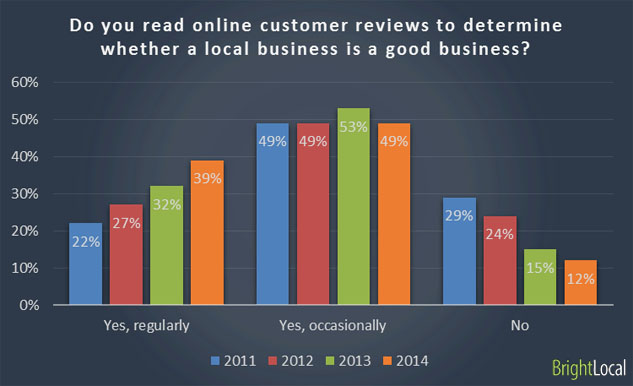 Trust 
Of course, trust is just as important as quality. As you can imagine, online reviews play a major role in trust as well, and not just regarding the business itself.
This is because it's important to note that 88% of consumers now report that they trust online reviews as much as personal recommendations (compared to just 79% in 2013). And, with 72% of consumers reporting that positive online reviews cause them to trust a business more, trust is essential for local businesses in the online review realm.
Conversions
One of the main concerns for any business is conversions. Sure, it's nice to have eyes on your website. But if potential customers aren't actually buying your products or services, you might as well not have any views at all. And if you're currently experiencing a poor conversion rate, online reviews might be to blame.
Positive reviews are likely to drive traffic to your website, connecting customers with your actual business. As a matter of fact, 57% of consumers report that when they read positive reviews about a business, their next step is to visit their website. This means that if your reviews are not the best, you might stop consumers from visiting your website at all.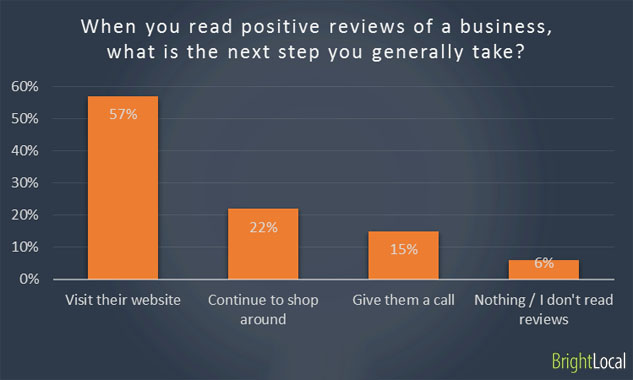 The Number and Quality of Reviews Matter Too
It's not enough for your business to just have a few positive or adequate reviews. That's because in the online realm, quantity and quality both matter.
Number of Reviews
Consider this: 85% of consumers say they read up to 10 reviews before feeling as if they can trust a business and 67% consider 6 reviews the cut off number before developing trust for a business. This means that if you have just five or less, consumers are likely to be skeptical when deciding whether or not to trust your business.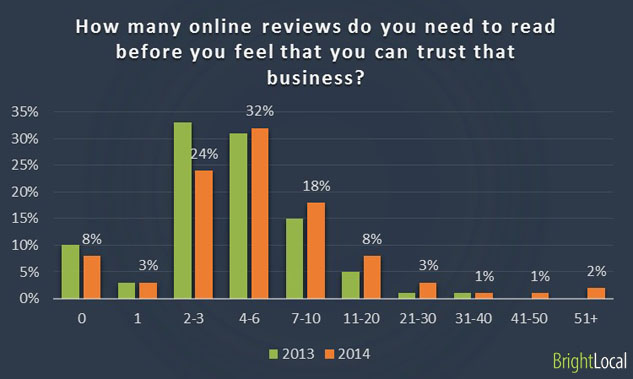 Quality of the Reviews
As we all know, quantity isn't everything (after all, you wouldn't want a large quantity of poor reviews). That's why when it comes to your online reviews, quality matters too. For most consumers, 45% to be exact, a business with two out of five stars isn't necessarily the most trustworthy. And really, that's not to say that many aren't wary of three star rated businesses as well.
This means that if you can attain at least four out of five stars, you should. By doing so, you can drive consumers to your website and establish an authoritative, trustworthy reputation essential for small business owners today.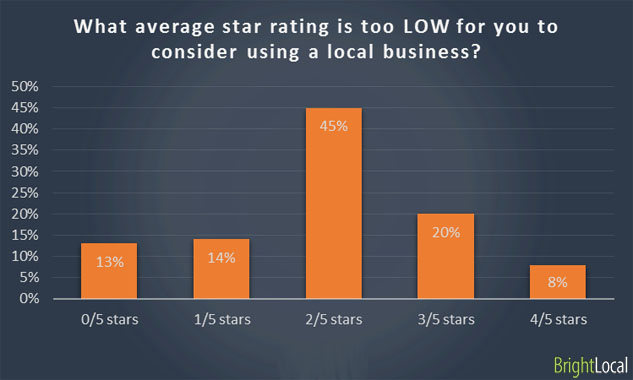 For Dentists and Doctors, Online Reviews are More Important Than Ever
Another statistic that's increasing is the number of readers searching for information about both doctors and dentists.
As a matter of fact, 35% of consumers now turn to online customer reviews to locate a doctor or dentist that's worth seeing. That's up from 32% in 2013, demonstrating additional, relevant growth that should push you to grow increasingly concerned with your reviews.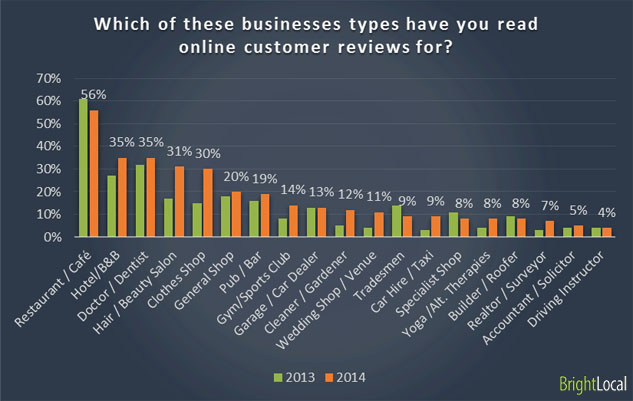 Take Control Over Your Reputation and Your Company's Future
While many local business owners continue to operate without acknowledging the true impact of online reviews, we're confident that you won't make the same mistake.
Now, not everyone ignores reviews for the same reasons. For some business owners, trying to navigate Yelp's complicated filter while optimizing for Google maps and their own site is simply too overwhelming. But handling the problem head on is the best course of action for your business.
At least, that's what consumers are saying according to the statistics.
And by listening, you can give your business the edge it needs to succeed in the business world where online reviews are the new personal recommendation.