It's inevitable that no matter how great your customer service and solutions are, your Yelp profile will experience good, bad, and ugly reviews alike. And, while it's true that you ultimately can't control what patients write on your profile, there is one thing you can control.
That one thing? How to respond to Yelp reviews.
Think about it: regardless of whether you choose to respond, patients will continue to share their experiences. With 85% of consumers reading 10 reviews or more to determine the quality of your business, choosing to respond means being able to remedy some of the damage that patients can do.
In this article, we're going to discuss strategies for responding to both positive and negative Yelp reviews. This means that you won't ever be left thinking "how do I respond to a Yelp review?" ever again.
General Rules of Responding
If you've been on Yelp checking your own profile or leave reviews yourself, you've probably seen all types of reviews from the glowing, positive ones down to the considerably rude or offensive ones.
However, there are several consistent qualities you should keep in mind regardless of what type of review you encounter and are responding to. These qualities include:
Professionalism – Many professionals can't help but take comments personally when dissatisfied patients leave a review. However, it's vital to maintain professionalism in any comments that you make. Remember, these are all public comments and whatever you say will be visible to others who are considering whether or not to use your services.
Express Thanks – It might seem counterintuitive to thank patients for their negative reviews, but positive and negative reviews alike deserve a thank you. By responding to Yelp reviews in a thankful manner, patients will recognize that their feedback is valued regardless of what they have to say.
Keep it Brief – Brevity is the key to any successful Yelp response. You might have a lot to say to your patients (especially those who leave negative reviews). However, you should keep your responses between 40 and 50 words maximum. Doing so will make it simple for patients to review your responses and limit the amount of information you can express publicly.
Keep it Factual – One cardinal rule of figuring out how to respond to Yelp reviews should be keeping things factual. It's simple to get swept away in the emotionality of a situation. However, keep it professional and factual at all times.
Be Courteous – It's vital to be courteous in your responses, especially because you want to reach a resolution with disgruntled patients, not exacerbate a situation. Of course, you should also be courteous with patients who leave a positive review by thanking them for their kindness and welcoming them back to your practice.
How to Respond to Positive Yelp Reviews
I know what you're thinking: "what's so difficult about responding to positive Yelp reviews?" And really, there's nothing particularly difficult about this, but doing this well is another story.
Sure, you can respond to reviewers by thanking them, but you should be doing something more to show patients that you really care. This includes:
Responding in a Timely Fashion – You don't want your gratitude to come across as an afterthought. Instead, respond to positive reviews as they appear to ensure that patients feel as if their feedback is appreciated.
Thank the Patient – It's intuitive to thank patients for their feedback, but it's important to mention nonetheless. After addressing your patient by their name, be sure to provide thanks for their review.
Welcome Them Back – Always welcome any patients back for their next check-up, whitening treatment, or other procedure they'll need. By doing so, patients will be more inclined to choose your practice again and again.
Want an example of how to respond in a positive way? Aside from being provided later than is ideal, this response is a great example of how to respond to positive Yelp reviews:
How to Respond to Negative Yelp Reviews
Responding to negative Yelp reviews is one thing that every business owner dreads (or maybe even looks forward to). However, poor responses can cost your business even more than the negative reviews themselves do.
That's because a poor response reflects your personal character. Worse yet, if you're combative or choose to use your response to "air your dirty laundry" you'll further compromise the integrity of your practice.
For example, the screenshot below is from a dentist responding to a patient. Not only are they combative, lengthy, have misspellings in their response and are making personal attacks on the patient, but they're doing this all for other patients of the practice to see.
Of course, poor responses can also cause further damage aside from driving new patients away. In fact, it can prompt the original reviewer to update their review, like this patient did in response to the screenshot response above: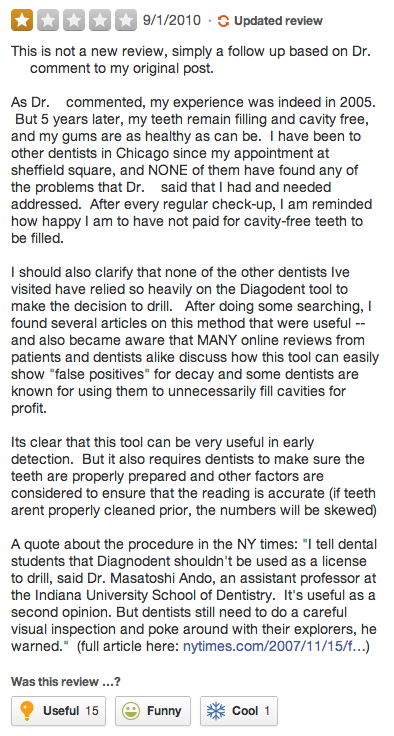 Luckily, you don't have to make the same mistakes when it comes to responding to negative Yelp reviews. That's because there are only a few rules to follow, including:
Maintaining a Neutral or Friendly Tone – Most responses to negative reviews are combative, but this will only prolong a problem. Instead, maintain a neutral or friendly tone in your response to maintain your credibility and address any concerns your patients have.
Be Emotionless – If your response is driven by personal emotion, you're going to cause a larger problem than you need. Instead, try to maintain your professionalism and remove emotions from the situation. By doing so, you'll create a constructive response rather than one that might cause further problems.
Keep Details Out of It – If you include too many personal details when responding to Yelp reviews, you might make a patient uncomfortable. Instead, keep details out of your response and reserve discussing the situation in a personal, private message between you and the client.
Save Your Excuses – The worst place to make excuses for poor experiences is in a response. You don't want your Yelp profile to turn into a "he said, she said" situation. Instead, acknowledge the patient's problems and encourage a private interaction. This shows you value your patients and genuinely want to reach a resolution.
Never Make it About the Review – While part of your motivation in responding to negative reviews will be to encourage patients to change their review, this should never be a driving (or apparent) motive. Instead, show patients you value their feedback and truly want to address the problems they experienced. Doing so shows your integrity and will encourage patients to reconsider whether or not to use your practice.
Responding to Yelp Reviews Doesn't Have to be Difficult
There is no secret formula that will tell you how to respond to a Yelp review.
However, there are simple steps you can follow to ensure that your responses align with your ultimate goal to leverage your Yelp profile to secure additional patients and keep current patients coming back.
Of course, we can all use additional help. And, if you're overwhelmed by your Yelp profile, the team at Linking Up Local is prepared to help.
Contact us today to effectively manage your Yelp profile no matter how good, bad, or ugly it might be. We look forward to giving you the guidance you need.